Blog
Week 5 – Giveaway Announcement
Written by by Tim Priebe | Posted on October 7, 2014 | Comment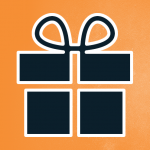 There's nothing quite like a good, old-fashioned freebie. Don't be a jerk and put any weird catches on it (must purchase at least $50 worth of merchandise first), just make something available for free. However, it is pretty normal to require a name and email address.
The prize doesn't have to be related to your business necessarily, though it's great if it can be.
Since it's your giveaway, you can put whatever rules and method of entry you want. You can make it one entry per person, though that may be hard to enforce. You can make it one entry per email address, which is easier to keep track of. You can even require that people post a comment to your blog entry in order to be entered to win.
[sc:chapters]
Leave a Comment
Let us know what you think by leaving a comment below. Fields with a * are required.